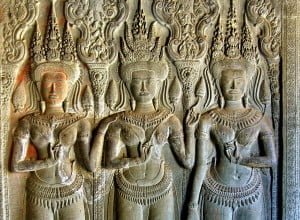 DatAsia Archaeological and Literary Research Projects
The Khmer civilization created some of the world's most beautiful art and architecture. Angkor Wat, a UNESCO World Heritage site, enshrines an intricate series of bas relief carvings.
While the historical murals have been studied extensively the prominent portrait carvings of more than 1,850 Khmer women remain a mystery.
This study will enter carving features using digital images, enabling researchers to analyze the group quantitatively for the first time. The objective is to unlock new information about the Khmer empire and the roots of Southeast Asian culture.
---
Literary Archaeology
Since 2005, literary archaeologist Kent Davis has worked as chief editor at DatAsia Press. There, he is devoted to locating and restoring extraordinary "lost" literature (i.e. out of print, obscure, forgotten and untranslated) relating to Southeast Asia and French Indochina, operating as the not-for-profit DatAsia Press. Many titles relate to women's history, female traditions and female authors. Others offer rare international perspectives of early 20th century life in SE Asia and France.
Kent Davis – Research Papers at Academia.edu
https://independent.academia.edu/KentDavis
Kent Davis – Amazon Bibliography
http://www.amazon.com/Kent-Davis/e/B002BLYCPU/
---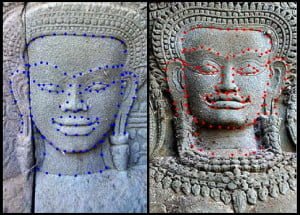 Angkor Wat Devata: Facial Recognition Project
DatAsia has photographically documented 1,796 sculpted female portrait carvings on Angkor Wat.
In collaboration with the computer vision team at Michigan State University, they developed procedures for computer analysis of facial features of the sculptures. Preliminary results were reported at the conference of the International Association for Pattern Recognition on computer vision. Future refinement of the systems is underway.
---
Gerda Wegener Art Restoration Project
The name of the talented Danish artist may be unfamiliar…before mentioning that Alicia Vikander just won an Oscar portraying her in "The Danish Girl." On March 15, Denmark's ARKEN Museum — now featuring the largest Gerda Wegener art exhibition ever — hosted American historian Kent Davis as he unveils his restoration of a lost novel entirely illustrated by the artist more than a century ago.