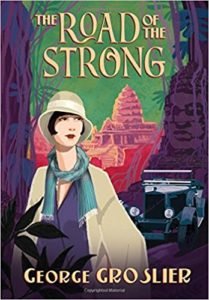 In his first novel, George
 Groslier glorifies the colonizing power of France, while celebrating a Khmer art of living. His protagonist, Résident Ternier, lives his life in devotion to his mission, to the roads that link beings, bring villages into the world, open up economies, and guarantee security and peace.
– Professor Henri COPIN (Foreword)
A chance encounter on a French country road irrevocably intertwines the fate of Pierre Ternier–a colonial administrator visiting from Cambodia–with successful car manufacturer Roland Gassin and his wife Hélène. When Ternier learns the Gassins are headed to French Indochina to explore manufacturing their cars, he extends an invitation to visit him in Cambodia.
As Roland concludes their business in Vietnam, Hélène is the first to arrive in the rural Cambodian province of Battambang, where Ternier's primary duties are constructing and repairing the Protectorate's rapidly expanding road network. Through Ternier's warm hospitality, Hélène is immersed in the rural lifestyle and Khmer culture, as she is charmed by the friendly natives. Soon, however, it becomes apparent that Hélène is a woman with a secret…a secret that would change all of their lives forever.
---
About this Edition:
Born in Cambodia in 1887, George GROSLIER redefined the art, architecture, history and literature of his beloved birthplace. Here, in its first English translation, Groslier gives readers a candid and intimate look at life in early 20th century colonial French Indochina.
This edition includes an insightful foreword by Professor Henri Copin, supplemental materials, the original French text, publisher's notes, and a 75-page feature article by Tom Kramer: "Colonial Battambang Today–Revisiting George Groslier's Setting for The Road of the Strong."
---
Book Details:
Paperback
Publisher: DatASIA, Inc.
Date of Publishing: November 1, 2017
Language: English